TurboCycler 2 Thermal Cycler
Enhancing PCR Efficiency and Accuracy
TurboCycler 2 thermal cycler is designed specifically to enhance PCR efficiency and accuracy. It is equipped with a 7" sensitive touchscreen and a friendly graphic user interface, which makes operation highly intuitive. With flexible ramp rate and gradient temperature control, TurboCycler 2 greatly increases PCR accurate optimization. The Wi-Fi function enables you to monitor the PCR run status anytime remotely with walk-away convenience.
Main Feature
Features and Benefits
Outstanding Performance
Flexible Ramp Rate Control
from 0.1 – 5.5 ℃/sec to meet the need for the CRISPR related assays .
Fully Adjustable Lid Temperature
can be set between 35 and 120 °C for virtually any type of experiment including NGS pre-treatment.
Gradient Optimization
range from 1 to 30 °C enables optimal experimental conditions in a single PCR run.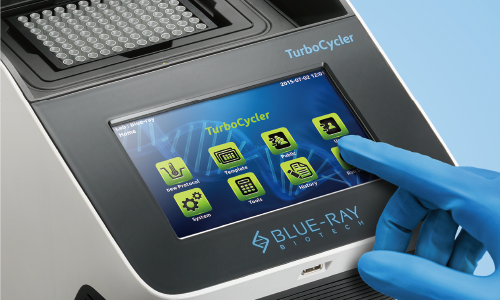 Easy to Control
The sensitive 7" capacitive touchscreen enables easy operation even with laboratory gloves.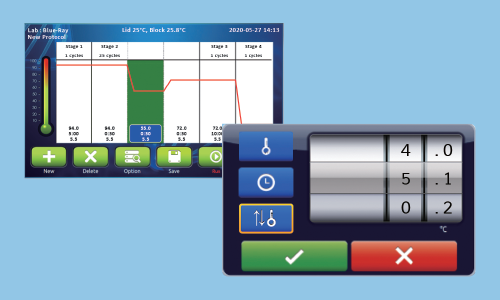 Friendly User Interface
The graphic interface is easy to use, making the adjustment of experiment parameters such as temperature, time and cycle quick and simple.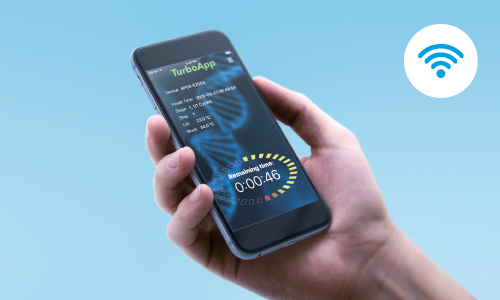 Efficient Remote Monitoring
Monitor your PCR status remotely anytime on your mobile device via the free TurboApp.
Standard Specifications
Specifications
Sample Block
96 Well, Gradient Block
Compatible with regular profile or low profile 0.2 ml PCR tube, strip, non-skirted, semi-skirted and full-skirted 96-well plate
Block Temperature
Block Temperature Range
4.0 – 100 °C
Max. Heating Rate
5.5 °C/sec
Max. Cooling Rate
3.3 °C/sec
Temperature Accuracy
+/- 0.3 °C
Temperature Uniformity Across Block
+/- 0.3 °C
Adjustable Ramp Rate
0.1 – 5.5 °C/sec
Gradient Temperature
Gradient Direction
Horizontal across the block
Gradient Temperature Range
30 – 100 °C
Gradient Temperature Difference
Max. span 30 °C
Heater Lid
Temperature Setting Range
35 – 120 °C or off
Temperature Accuracy
+/- 1.0 °C
Software
Portability of Protocols
Save and transfer to computer or TurboCycler 2 via USB flash drive
Stored Program No.
> 4000 sets
Registered User Folder No.
100 sets
User Folder Password Protection
Yes
Run Status Report
Yes, HTML output and transfer via USB flash drive
Real-time Temp. Profile Export
Yes, CSV output and transfer via USB flash drive
Tools
Tm calculator, Copy number convertor, Master mix preparation wizard
General
Display
7" color LCD with capacitive touch panel
Data Port
1 USB Type-A front port for USB flash drive
Heated Lid
35 – 120 °C or off
Auto Restart after Power Outage
Yes
Remote Monitoring via Wi-Fi
Optional
Footprint Dimensions (H x W x D)
225 mm x 245 mm x 415 mm
Power Supply
AC 100-240 V, 50/60 Hz, 750 W
* Specifications are subject to change without prior notice.
Ordering Information
Ordering Information
TCST-9612
Gradient TurboCycler 2 with 96-well Sample Block (110V)
TCST-9622
Gradient TurboCycler 2 with 96-well Sample Block (220V)
TCLT-a001
Wi-Fi Upgrade Module
TCLT-a002
5.2 mm Compression Mat x 10 pcs
TCLT-a003
1.0 mm Compression Mat x 10 pcs
Video
datasheet